Re: Biker riding between cars on highway gets hit
---
The rider made two mistakes that I can see

#1 Speed too different from other traffic

#2 Didn't forsee the vehicle moving over. The guy crept over. The rider had plenty of time to brake if he was watching for it.

I lane split, and any time I am I try not to go more than 20mph over what the other cars are doing. I also look out for potential lane changers. I look for vehicles with empty lane next to them, and I watch for any movement.

This guy was on a new Ninja 650, a beginner or second bike. He probably had just enough confidence to get him into trouble.
__________________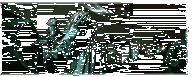 Obama can't gymkhana.